Over at the
Confessions of a She-Fan blog
, friend of the blog, Jane Heller put together a few selling points for potential free agents to consider about New York. Its a good idea since several free agents have expressed hesitation when asked about playing in New York. One big free agent, Mark Teixeira has stated that he wants to play close to Maryland, probably for the Orioles. While Jane went the positive route in trying to sell the greatest city in post-industrial America, I would also like to point out some of the positive qualities of Baltimore to Mark Teixeira.
Mark, Baltimore, Maryland features one of the northeasts nicest ballparks in Camden Yards. This much is true, but the city is so much better than just the ball park.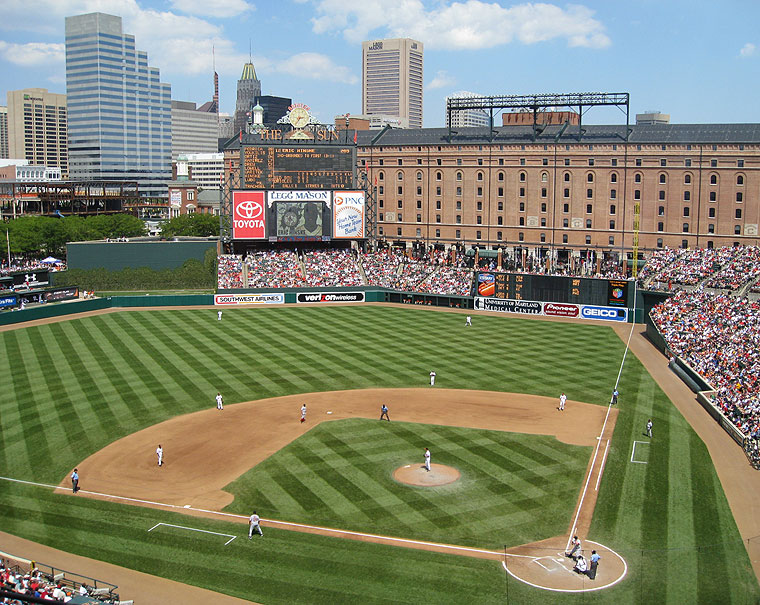 Do you enjoy taking long walks? Baltimore, Maryland features one of the more livelier street atmospheres in the Northeast.
Feeling tired or ill Mark? No need to worry, Baltimore is known for their proficiency at performing house checks.
Worried about your children's future or your future children? Baltimore is known for its nurturing atmosphere and positive messages for kids.
Now Mark, many people might try to tell you that Baltimore is a dangerous city, but don't buy into it. If you look at this murder rate map of Baltimore, and ignore all the blue arrows that mark where a murder occured, you'll see how many non-murder neighborhoods there are. The non-murder neighborhoods out number the murder neighborhoods by plenty:
Worried about housing costs? Those won't be an issue in Baltimore.
Lastly, if the Rays are any indication of a future trend, then Baltimore is also in a prime place for 2009.
AL East Standings:
Tampa Bay Rays - 97 wins 65 losses
Boston Red Sox - 95 wins 67 losses
New York Yankees - 89 wins 73 losses
Toronto Blue Jays - 86 wins 76 losses
Baltimore Orioles - 68 wins 93 losses
So in conclusion, Baltimore is precisely where you need to go Mark. It fits all your needs, both in baseball and in life. Go Boras clients!